If you're looking for a mountable garage vacuum with a long hose, look no further – Bissell Garage Pro Vacuum 18P03 fits the bill snugly.
Not only is this vacuum convenient and easy to use, it has strong suction with a broad range of attachments that can meet just about every cleaning need you have.
You can easily dismount it and carry it around your house vacuuming air vents, getting cobwebs off high walls and the ceiling, cleaning dryer vents, or around your garage cleaning just about every inch of your car, driveway, and garage. Space is the last thing you'll ever have to worry about after buying the vacuum.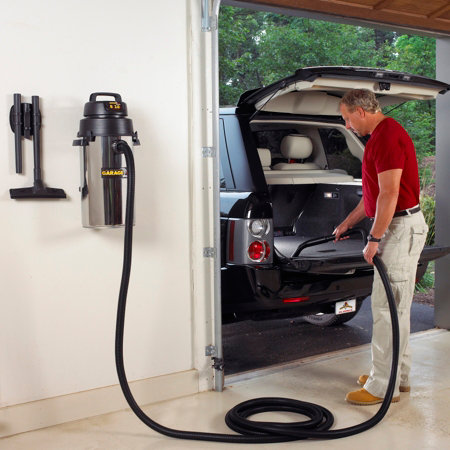 Key Features
One solid improvement you're likely to notice almost right off the bat is that, unlike all the models that came before it, this one is even quieter and more powerful when lined up against a number of larger shop vacuums.
It's certainly a vacuum you'd want to pick if you're looking for something a bit out of the way, convenient and equally powerful-a must-have if you have a car, driveway or garage that calls for regular cleaning.
Performance
The Bissell Garage Pro Vacuum 18P03 comes equipped with a 12-amp motor for cleaning hard carpet and a complete wall-mounting system that allows you to pin it on the wall for easy access and to save on space.
The contraption is designed to pick up both wet and dry messes. Every purchase comes with seven multiuse attachments including a precision suction, crevice tool, small upholstery tool, large surface area cleaning tool, extension wand, dusting brush, and multi-surface floor tool. That goes without mentioning the 32-feet long hose and a 4-gallon dirt tank that comes with every purchase you make.
The vacuum can be used to clean both indoor and outdoor areas or get rid of all the dry leaves and loose dirt hanging along your driveway.
Worth mentioning is the Helix cleaning system which comes with a rotating brush that you can use to clean the fine dirt or dust on your floor, autos, upholstery, and whatnot. The wand is designed in such a way that it can be extended to clean the ceiling, high walls or all the places you can't reach with regular, run-on-the-mill cleaners.
Pros of the Product
Adequate suction power
This Bissell garage vacuum doesn't have the highest power suction. But it's strong enough to clean all the messes around your garage or perhaps exceed every expectation you had for the machine in its price range.
It's easily Mountable
The machine comes with a mountable system that makes it possible to hang on the wall for easy access and to save on space. This makes it the perfect vac you'd want to have in your garage, as you don't have to worry about crushing it or knocking it over every time you try packing your car.
It's shockproof
If you've ever touched your vac with wet hands, then you probably understand the importance of ensuring the machine you buy is shockproof.
This garage vacuum has the on/off switch encased in rubber. So whether or NOT you touch it with wet hands, one thing you're rest assured is that there will be NO electrical shocks.
It's versatile
This Bissell garage cleaner does so much more besides cleaning your garage and car, thanks to the 7 unique attachments that comes with every purchase you make. You can use it to clean your bare floor, carpet, upholstery, and whatnot.
Customer Reviews
The Bissell garage vacuum boasts a good rating on various online platforms and forums. While a good number of users rank it atop for its suction, some are contented with the fact that you can easily mount it your wall and save on space.
Other top features that make the machine pretty much likable when pitted against its close rivals are the 7 attachments that make it versatile, the long hose that lets you clean high walls and ceiling, and the fact that using one is just a cinch.
Cons
The machine may be all that, but it's far from perfect. There's a whole lot the company needs to work on to improve user experience and perhaps offer a better machine next time.
The first one is the price. The machine might NOT be exactly expensive, but it certainly NOT the cheapest. The company could have done much better had it considered lowering the price.
Two, the size. The company should look into the size and may be figure out a way to make it more compact. It's small, but not small enough to do your car's interiors. Not when there are smaller vacuums than it that are easy to manipulate around besides having more flexible hoses.
Final Verdict
Granted, Bissell company did a commendable job on this vac. With very few disappointments and a whole lot of laudable features, there's no reason anyone would want to make this machine a second option.
From the mountable system, the convenience and suction power, the machine is worth every single penny spent on it. Our only wish is that Bissell would one day consider making it more affordable and compact to shut down all nit-pickers.